Traveler's Guide to Friuli
When it's time to plan a trip to Italy, a few must-see stops immediately come to mind — the Colosseum in Rome, the Uffizi in Florence, and the canals of Venice. But what if you've already visited the usual suspects? Or what if you're looking to experience an area of Italy that is slightly less-touristed? Head northeast.
Friuli Venezia Giulia is one of the country's lesser-known regions, and one of Italy's best kept secrets. Despite its proximity to Venice, the guidebooks rarely cover the region, which is surprising. A complex and fascinating history coupled with stunning natural beauty means it's packed with adventures to be had and offers plenty to explore. Sometimes referred to as a "land of contrasts," Friuli Venezia Giulia offers something for everyone.
Soak Up Some Culture and Soak Up Some Sun
Trieste, the region's capital, sits between the Adriatic Sea and the country's border with Slovenia. Exploring Trieste's many attractions is an ideal way to uncover the complicated history of the region.
Visit the Roman theater dating back to the first century AD, when Emperor Octavius ruled the city — then known as Tergeste. Explore the city's religious center, the 14th-Century Cathedral of San Giusto. Take in views from Castello di San Giusto, a castle that sits atop San Giusto hill. Austrian Habsburgs enlarged it to its present size in the 18th century. Then, once you've seen it all, do as the locals do. Sit down and relax with a cup of coffee at Caffè San Marco, one of Trieste's oldest cafes.
If you're interested in less sightseeing and more relaxation, Lignano Sabbiadoro should be at the top of your itinerary. The Federation for Environmental Education awarded Italy a Blue Flag for the beauty and environmental quality of its seasides. With more than eight miles of golden sand beaches, Lignano Sabbiadoro is the perfect place to experience why. While you're there, be sure to carve out time to pamper yourself with a spa day at one of the city's famous thermal baths.
The Highs and Lows of Friuli Venezia Giulia
Keep in mind, not all of Friuli Venezia Giulia's natural beauty resides at sea level. The Dolomites, a portion of the Alps, are considered to be among the world's most magnificent mountains. Sometimes called "Pale Mountains," these white beauties put on a show each night as the setting sun paints them a variety of hues from pale pink to fiery red. But these mountains are more than just a sight to be seen — they provide ample opportunities to hike and ski all year long.
Switching from high in the sky to well below ground, another can't-miss attraction is Grotta Gigante. This "giant cave" is estimated to be ten million years old, and the Guinness Book of World Records lists it as the largest tourist cave on Earth. Discovered in 1890, it's open to the public via specialized tours that last roughly an hour.
Something Old and Something Now
One of Italy's 51 UNESCO World Heritage sites, Aquileia is an enormous archaeological site. A highlight among the ruins is Aquileia's Patriarchal Basilica. This jaw-dropping work of religious architecture dates back to 1000 and is adorned with colorful 4th-Century mosaics. The site is a peek into the opulence and grandeur of the Roman empire.
A trip to Friuli Venezia Giulia won't only have you looking to the past, though. The region is well known today for its quality-conscious, small-scale winemakers and produces some of the world's finest white wines.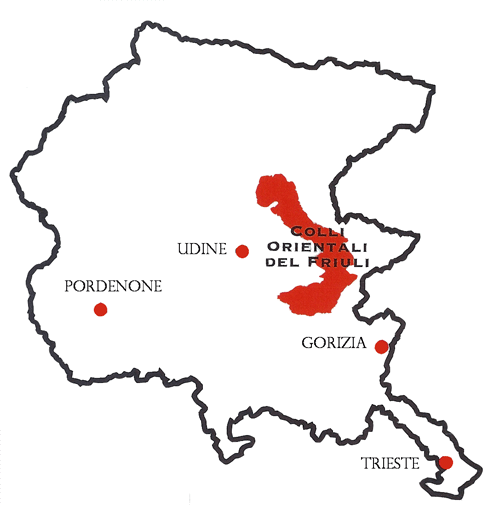 Terlato grows its Pinot Grigio grapes in the eastern hills of this region in an area called Friuli Colli Orientali (Friuli's Eastern Hills). Any visit to Friuli should also include a stop at Terlato Vineyards.
With cities across Europe discouraging visitors due to over-crowding, Italy's northeastern region offers a welcome alternative. Now is the time to plan your trip to Friuli Venezia Giulia. With its rich history, breathtaking natural beauty, and the variety of cultural experiences to enjoy, it won't stay under the radar forever.